Ludwig Breakbeats by Questlove shell pack
Brands
Breakbeats Series
"I wanted to build a device that was apartment-friendly and compact for the street musician; but also something that was quality-sounding. A gritty, raw, 'break-able' kit for gigging in clubs that you can fit in a cab. Breakbeats by Questlove does it all."
- Ahmir "Questlove" Thompson (The Roots)
---
Make It Fit
Breakbeats was designed with the city in mind. Positioned on a riser for optimum reach, its compact 14x16" bass drum, 7x10" tom, and 13x13" floor tom creates a set-up for sculpting grooves in tight spaces. It features Remo Pinstripe heads for pro-level tones, and comes with a multi-purpose bags for easy transport, and drum muting. The Breakbeats kit is available in White Sparkle, Black Sparkle, and Red Sparkle.
Break It Down
The tonal center of Breakbeats is a 5x14" matching wood snare drum. Create beats on the fly and make your voice heard at gigs, on the street, or in rehearsal.
Dial It In
Fitted with Remo heads, Breakbeats' 7-ply hardwood shells play like a full-sized kit; fusing low-end kick punch with focused tom and snare midrange.
Pack It Up
Packable, stackable, and portable, Breakbeats' compact size and included velvet storage bags make it ideal for the drummer on the move. Play it wide open or instantly change volume and tone by draping each bag over each drum.
Suggested configurations
Ludwig offers a variety of today's most popular set-up options, as well some of Ludwig's most recognized configurations. These popular outfits cover a wide range of styles and sounds.
LC179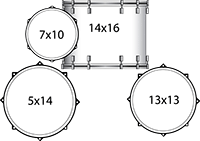 ---